Destiny Etiko bashed for stating why some junior colleagues may never be A-listers
In discussing the altercation between Zubby Michael and his fellow Nollywood actor, 042 Prince, Destiny Etiko caused some controversy when she outlined conditions that could hinder the younger generation of actors from achieving significant success in the film industry.
This situation arose after a confrontation between the renowned actor, Zubby Michael, and his junior colleague, 042 Prince, on a movie set.
Destiny Etiko expressed her thoughts on the importance of respecting the established hierarchy within the film industry via her Instagram account.
According to Destiny Etiko, achieving success in the Nollywood industry might prove challenging for junior actors who choose to challenge the authority of their more senior counterparts.
"It's takes alot to be an A list superstar. RESPECT YOUR SENIOR COLLEAGUES. Claiming to be what you are not won't take u anywhere A word is enough for the wise. Keep disrespecting and u will never get to their position✌️. How u dress your bed 🛌. So shall u sleep on it 🫡," she wrote.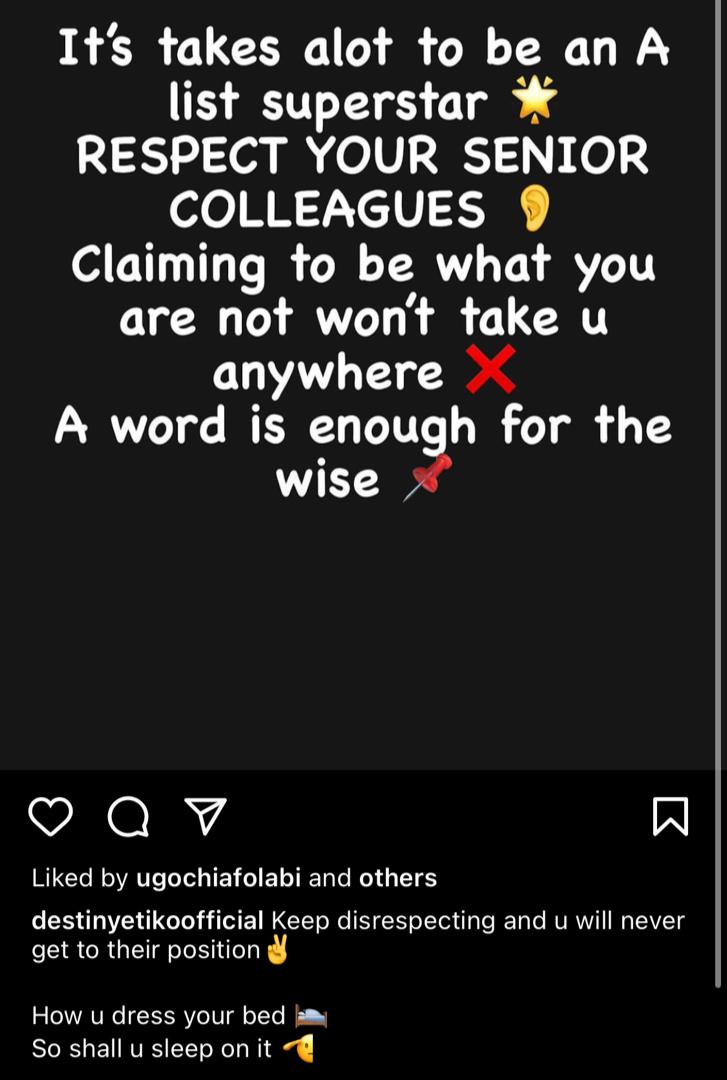 While many agreed with her, others argued otherwise; ridiculing her point of view as the godfatherism mindset that is ruining the industry.
"This your statement is why Nollywood is where it's today! There should be no senority in the industry! Allow people to grow based on their skill and expertise regardless of whether they respect imaginary seniors or not! The audience are not asking for seniority, they are asking for talent! Bring in talents!" a user wrote in reaction.